SPONSORED CONTENT:

Producer of soft drinks such as Ribena and Lucozade, Suntory Beverage & Food GB&I is now well on its way to meet its net zero targets with the help of Grundfos' retrofit solutions that are improving its pump systems.
The global manufacturer has pledged to reduce its carbon emissions by 50% by 2030, and to achieve net zero by 2050 using a 2015 baseline.
Around the time of making its sustainability commitments, its factory in Coleford, UK, at the Forest of Dean, was having multiple issues with its older pump systems. The company's energy and sustainability manager Daniel Gray also knew the pumps were wasting energy. A pump system retrofit would not only improve processes at the plant but could also help to save on some of those CO2 emissions.
Gray explained: "In our treated water plant previously, we had four 37 kilowatt pumps and a standby duty pump. During peak production, all four would be running because the pressure control was very basic.
"We've moved to a Grundfos solution with a controller and 22 kilowatt pumps, which are ramped down to the best efficiency point, and that's utilising savings that we would never have seen before. Some of the projects range from about a 40 to 60% reduction in energy, depending on how much they utilised. I don't think we've had one where the payback has been more than two years."
"I don't think we've had one [a pump retrofit project] where the payback has been more than two years."
The energy savings from the first retrofit projects have shown Suntory Beverage & Food the overall sustainability potential from Grundfos E-pumps. It's estimated that, so far, the Grundfos projects brought an overall 4% reduction to the factory's emissions.
Suntory Beverage & Food has benefited from other aspects of the retrofit solution, including the ability to remotely monitor the pump systems. The smaller pumps have also been a hit with staff as they are easier to handle – and quieter when in operation. Gray continued: "You don't have to wear ear protection anymore in the area. It's a safe working environment now."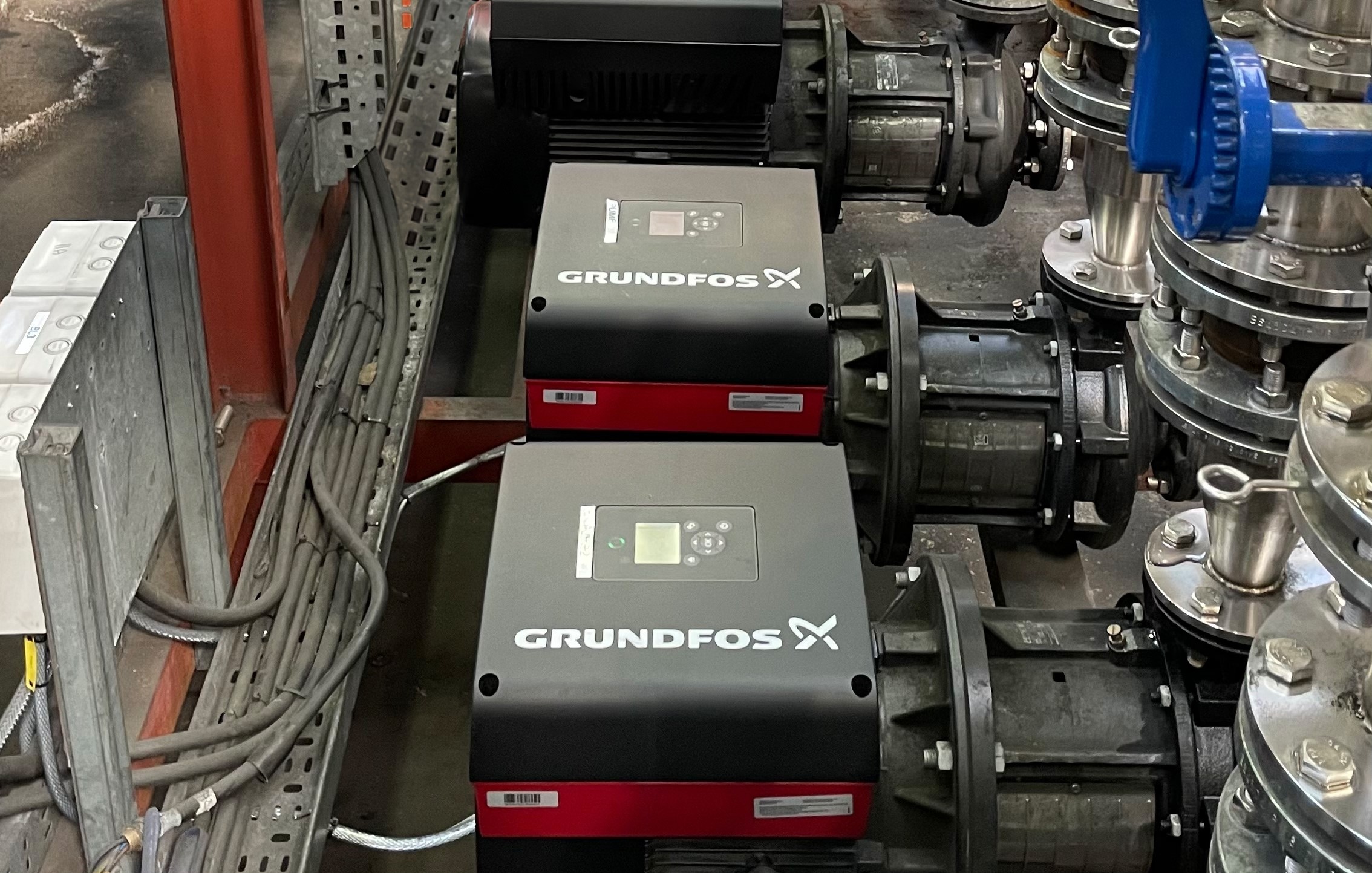 What's involved in Grundfos' retrofit service?
As part of the retrofit, Grundfos supplied an Energy Check Advanced, in which service technicians analyse the current pump performance and suggest ways to make potential energy savings. The water pump and solutions supplier undertook three projects with the manufacturer, which included upgrades on its towns water, treated water, primary chilled water and central chilled pump systems.
Grundfos supplied groups of NBE end suction, close coupled E-pumps. The pumps are equipped with highly efficient IE3 or IE5 motors, MPC-E controls and Grundfos Remote Management technology. The company's electronically controlled E-pumps have built-in variable speed drives that operate on demand with pressure control and temperature control, meaning the pumps only run when the system needs them.
Everything is part of the Grundfos digital iSOLUTIONS universe aimed at optimising the entire pump system, and offering a major opportunity for energy and carbon savings. Grundfos iSOLUTIONS utilises intelligent pumps, cloud connectivity and digital services. Together they enable real-time monitoring, remote control, fault prediction and system optimisation to help reach a new level of performance.