SPONSORED CONTENT:

Keeping temperature under control throughout the food manufacturing process is vital to producing a quality end product, according to Reiser UK's sales manager Ed Hewitt and meat specialist Volker Fahldieck.
"Controlling temperature is one of the most important parts of the food manufacturing process. It will lead to issues if not regulated. Temperature control doesn't just begin at the packaging and freezing stage, it's something that runs throughout the whole process – from start to finish," said Volker.
Unregulated temperatures not only hinder the quality of the final product but can also cause food safety hazards. Volker explained: "In burger production, for example, a lot of manufacturers like to keep the temperature of their mix around -2/-1⁰C to avoid too much protein extraction. When the mix is too warm, there's also potential for food safety issues to arise. When you've got high temperatures throughout the process, as little as 4⁰C in some cases, this can create conditions for bacterial growth."
That being said, temperature control is not limited to meat processing, but is an industry-wide concern that impacts various food sectors, presenting its own challenges for each.
Ed said: "Temperature control across the board is fundamentally about consistency, because the fluctuations in product quality can be dramatic otherwise. Bakery is another prime example of a sector where temperature control is vital. Depending on the season, producers will adjust their preparation methods to accommodate for the fact that the ambient temperature they're working with is different."
Reducing costs and increasing efficiency
With prices of ingredients rising at unprecedented rates, the cost of wasted product due to temperature inconsistencies or spoiled ingredients is now a serious concern for many operating within the sector today. Preparation machinery with control systems, such as Seydelmann's auto command 4000 technology, gives producers the ability to monitor temperature within a recipe through the mixing, cutting and blending stages. Vemag's range of portioners/extruders/dividers can also be equipped with temperature control.
Ed explained: "The machinery control systems can constantly monitor the temperature of the product in process and will shut down should it go beyond a set point. This avoids over working the product and creating waste as well as ensuring consistent processing further down the line.
The rising costs of CO2 and nitrogen gasses across the globe also mean that having built-in temperature control features within the production line is key to avoiding added financial pressures.
Volker explained: "Cooling is a massive cost at the moment. What we've noticed is – certainly with preparation machinery – producers who until recently have only been dealing with fresh material, now have a need to process both fresh and frozen, which helps to negate the need for cooling gasses" He says
"The Seydelmann range of universal grinders utilise frequency drives. The machine constantly monitors the load on the grinding worm and adjusts automatically. With this ability, fresh and frozen material can be run through the machine at the same time, which provides the producer with a high level of processing flexibility. In simple terms, the machine works out whether it's got fresh or frozen in there and will either put more or less power into the process to fit the product's requirements. More importantly, the machines are only using the necessary power that they need."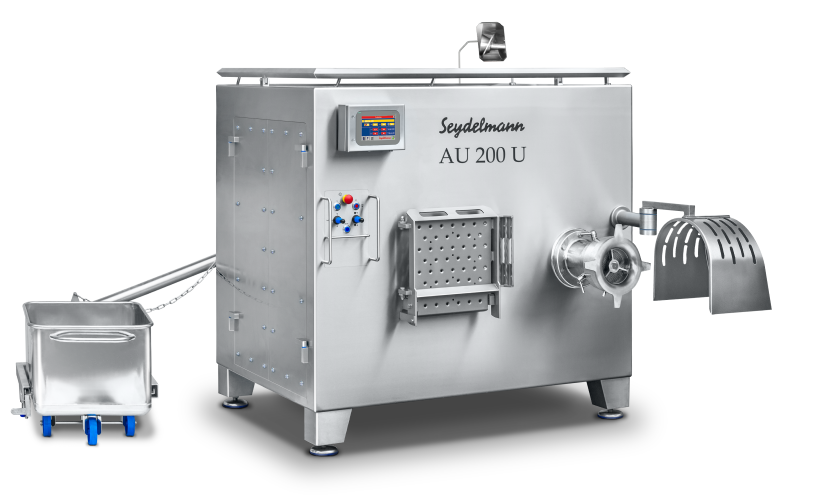 Tailored solutions
When it comes to temperature control, Ed said, most manufacturers have their own unique requirements and for Reiser UK's it's about adapting its range to fit those unique needs.
He said: "A bulk of our time and effort goes into finding a process that works within the customer's production environment; for instance, we look at factors such as the amount of freezer or fridge space and the ambient temperature of the production room. It's all about how we can work with them to devise a process that works and produces consistency, and that's different for almost every customer. That's why our specialists, service engineers and development team, are so vital to the value and service we provide."
A full list of Reiser's machinery and services can be found here.
Reiser UK can be contacted via the channels listed below:
salesuk@reiser.com
+44 (0)1908 585300