SPONSORED CONTENT:

Holac talks to Food Management Today about its range of equipment that is helping manufacturers increase yield and reduce flaking during the shredding process.
Holac is a world leader in dicing and slicing technology and offers a complete range of Dicers for applications of all types and sizes. Featuring a simple-to-change cutting grid, a single Holac can cube, strip, shred or flake all types of products and improve yields with consistent size pieces ranging from 3mm to 57mm.
Holac Cheesmaxx 200
The market has been asking for a high-speed, high-volume shredding machine, but without as much labour intensive or hands-on operations as is currently available. The Holac Cheesmaxx 200 is all about saving on personnel and space whilst producing higher volumes with quality shredding, dicing and flaking facilities. The ongoing labour shortages are, unfortunately, part of the reality that we're all currently facing; so fewer people needed on the line, with less space for machinery, to produce the same or better volumes is a real asset in today's environment.
With the Holac range,there's no limitation on the type of cheese processors wish to run. Whether its young, mature or even hard cheeses like Parmesan, the machines have the capability to process it all. Faux cheese and plant-based cheeses are also easily handled.
Higher volume shredding lines available today tend to have difficulties processing 20 kilo blocks directly. Most have to pre-cut the blocks manually. The Holac Cheesmaxx 200 has the ability to run 20 kilo blocks or a combination of blocks, and there's no need to pre-cut.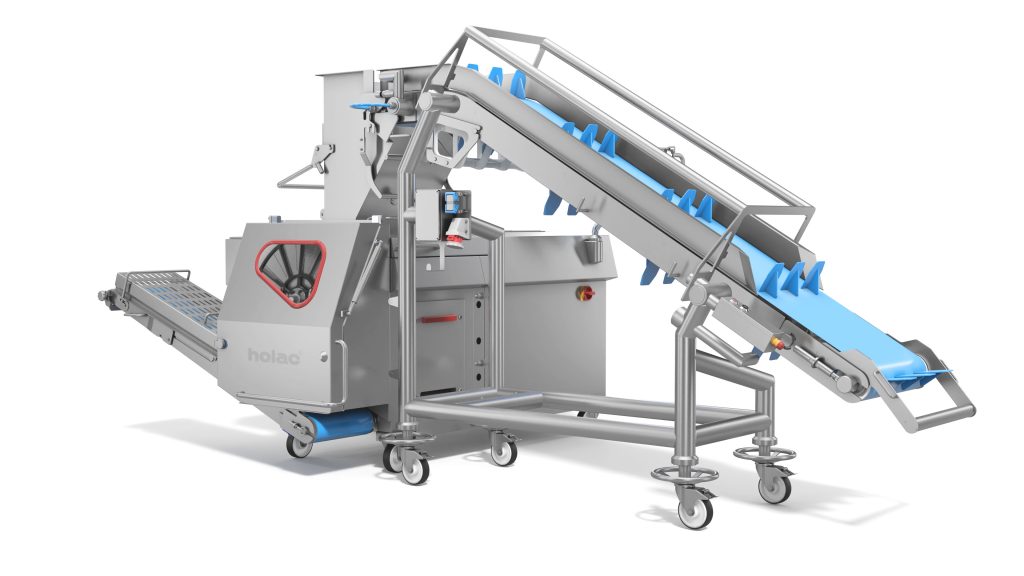 With traditional machines, excess from the block or dusting is to be expected. The problem is that excess and dusting ultimately lead to lost product, and as cheese is such a high value product, manufacturers want to get every last ounce of product packaged and sold to the customer. On average, the Holac Cheesmaxx produces a 5% increase in yield compared to traditional machines.
Typically, machines of this range are also prone to flaking during the shredding process. The Holac Cheesmaxx 200 eliminates flakes by grounding them down, ensuring that they are removed from the final product.
The latest Holac range also offers processors innovation in hygiene and mobility. Both the machine and detachable infeed conveyor operate on wheels, giving manufacturers greater flexibility when it comes to bringing it on and off of lines. What's more, the Holac Cheesmaxx 200 assembles and disassembles with ease to make for efficient and thorough cleaning.
For maximum efficiency, the Cheesmaxx 200 has been designed with the ability to communicate up and downstream with other pieces of kit. Changing the machine's function, from shredding to cubing for instance, takes only a matter of minutes.
Cheesixx
Whilst the Cheesmaxx is very much a flagship high volume system, for smaller businesses there are machines in the range that can give manufacturers those same end results with all the benefits of hygiene, ease of use and functionality.
In today's market, it is widely accepted that it is cheaper to shred or process your own cheese than it is to buy it in already processed. For smaller manufacturers, however, the costs of running and maintaining machinery may make self-processing seem like a pipedream. Simply put, manufacturers shouldn't need to produce 30,000 kilos a day in order to justify the typical expenditure on shredding cheese. The Cheesixx, the smallest machine in the Holac range, is ideal for artisans and SMEs that want to utilise the benefits of self-processed product without the costs of unnecessarily large equipment.
Reiser UK, supplier of Holac's range of cutting and slicing machinery in the UK & Ireland, can be contacted via the channels listed below:
Reiser UK Limited
Tel: 01908 585300
Email: salesuk@reiser.com
Website: www.reiser.com