The winners of the 2022 FMT Food Industry Awards were announced on Wednesday evening 25th May at a black-tie dinner and ceremony hosted by chef Matt Tebbutt of TV's Saturday Kitchen, held at the 5-star Royal Lancaster Hotel, London.
The annual Food Awards champion innovation, service and great products from different sectors of food production, manufacturing and retailing.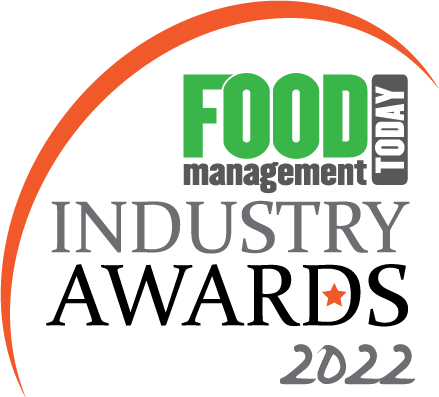 The initiative recognises the best of the UK food industry rewarding organisations, products and suppliers across 15 different categories.
Returning this year as an in-person event, having been moved online in 2021 due to Covid restrictions, guests celebrated the industry in style at a ceremony held in one of Europe's leading events venues.
The evening's most prestigious award, Food Industry Champion of the Year, went to Bill Jermey, former chief executive of the Food and Drink Training and Education Council (ftc) and current chairman of the Institute of Meat.
With a diverse career within the UK food industry, spanning half a century, Jermey was recognised for his leadership and dedication to improving training schemes for all within the sector, and for his work in successfully lobbying government to add food manufacturing qualifications to its Lifetime Skills Guarantee programme.
Along with all the category winners, the finalists for each category were also announced.
In addition there will be a list of highly commended products that will be published in a special awards edition of Food Management Today magazine which goes online shortly and will also be sent out in its usual printed format.
And the 2022 winners are…
Best Trade Organisation – Provision Trade Federation
Best Ingredients Supplier – Kerry Taste and Nutrition
Best Machinery / Equipment Supplier – Handtmann Ltd
Best Training Initiative – Pilgrim's UK: Graduates Operational Leadership Trainee Programme
Best Free From Product – Premium Dairy Free Mango Sorbet – Suncream Ice Cream
Best New Product Development – ASDA Extra Special British Thick Cut Sirloin Steak with a Tamarind and Chipotle BBQ Marinade and Mixed Pepper Rub – ABP
Best Frozen Product – Marks and Spencer British Honey and Mustard Crusted Rack of Lamb – Linden Foods
Best Bakery Product – Ocado Oven Bottom Muffins – G H Sheldon Wholesale Bakers Ltd
Best Seafood Product – Chef's Larder Premium Luxury Seafood Cocktail – Booker
Best Red Meat Product – Waitrose Extra Trimmed Rack of Lamb – Pilgrim's UK
Best Poultry Product – Morrisons The Butchers on Market Street Chinese Chicken Drums and Thighs – Cranswick Country Foods – Poultry
Best Dairy Product – Aldi Specially Selected Ice Cream – Salted Caramel – Beechdean Dairies
Food Retailer of the Year – Aldi
Food Manufacturer of the Year – Samworth Brothers
Food Industry Champion Award – Bill Jermey, former chief executive of ftc and current chairman of the Institute of Meat
Commenting on the awards ceremony, editor of Food Management Today, Liz Hendley, said that the evening was a great success for all involved: "It was a real pleasure to welcome everyone to our live in-person event once again after what has been a very challenging period for the industry.
"It goes without saying that the UK food industry does a brilliant job in feeding the nation, and was outstanding during the Covid crisis. Recognising the best is always a pleasure and we always enjoy the opportunity to arrange the ceremony and dinner in such superb surroundings."
The official 2022 Awards partners: